ALL STATS, SCHEDULES AND HANDICAPS ON THIS WEBSITE ARE FOR REFERENCE ONLY AND SHOULD NOT BE TOTALLY RELIED UPON. YOUR TEAM SHOULD ALWAYS GO BY THE SCHEDULES AND SCORESHEETS IN YOUR WEEKLY TEAM PACKET.
Looking for a new cue or case?
Check out the online catalog @ J&J America
Then ask Robert Wong for details.
Note: Minimize the Ad window instead of closing it and won't keep popping up when you change pages.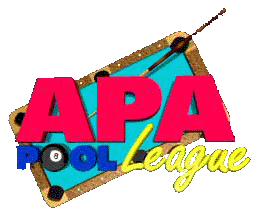 League Operator - Robert Wong
Playing 8-ball and 9-ball at locations all over Orange County, we are sanctioned by the American Poolplayers Association, nationally recognized as the governing body of amateur pool. If you are a member of our league, you will find the latest statistics, schedules and happenings here. If you are not a member and would like to join us, you will find a place where we play in your area, points of contact and information on how to join our league.
Orange County APA Points of Contact

Phone Numbers:


Orange County APA Pool League
(714) Pro-Ball

Robert Wong, via voicemail pager
(714) 776-2255


Mailing Address:

APA Pool Leagues
Post Office Box 725
Garden Grove, CA 92642
Orange County APA Mailing List

Want to know when the latest stats or other important league information are posted to our website? Sign up for our mailing list. Just click the link and send mail to Robert Wong Your e-mail address will be kept confidential. It's not required, but we would also like to know your Name, Team and Division in the body of your e-mail.

This page has been visited

times.

Home
Join APA
Host Locations
Team Standings
Gold Division 001
Midway Division 002
Players Division 003
North County Division 004
Shooters Division 005
Breakers Division 006
9'ers Division 090
To The 9's Division 091
Calendar
Links
WolfPack Pool Tips
APA Rules
Adobe
e-mail Robert Wong
e-mail webmaster